Get Well Flowers
Let Flower Fantasy & Gifts Inc. of Oliver, BC help you send get well wishes to your friend or loved one. Show them how much you care with a floral arrangement or customized get well gift. A basket filled with snacks, bath products, unique jewelry and accessories, or a favorite stuffed animal is a great and easy way to cheer up a loved one. Top off your personalized gift with a fun balloon bouquet. Wanting something a little more traditional? There is no better or more simple way to remind someone that you're thinking of them than with get well flowers. Place your order online or call to customize a gift for that special someone. Let us be the ones to help you wish a loved one "get well soon."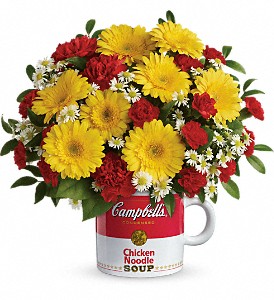 Campbell's Soup "Get Well" Mug
Send your most sincere healthy wishes for a speedy recovery! This beautiful bouquet of bright yellow gerbera daisies and red carnations is perfectly presented in a charming Campbell's Chicken Noodle Soup mug that will be enjoyed for years to come.
More Info
Hospitals and Health Care Providers in Our Delivery Area:

| Name | Address | Phone |
| --- | --- | --- |
| * South Okanagan General Hospital | 911 Mckinney Rd Oliver, BC. V0H 1T0 | (250) 498-5000 |
| Heritage Assisted Living Comms | 8191 364th Ave Oliver, BC. V0H 1T0 | (250) 498-0622 |
| Park Place | Rr 3 Oliver, BC. V0H 1T0 | (250) 498-6266 |
| Country Squire Retirement Vlg | 9603 87th St Rr 2 Osoyoos, BC. V0H 1V0 | (250) 495-6568 |
| Elk's Golden Villa | Po Box 858 Osoyoos, BC. V0H 1V0 | (250) 495-6666 |
| Athens Creek Retirement Lodge | 170 Warren Ave W Penticton, BC. V2A 8R6 | (250) 493-3838 |
| Cherry Park Retirement Residence | 317 Winnipeg St Penticton, BC. V2A 8J9 | (250) 492-2447 |
| Concorde Assisted Living | 3235 Skaha Lake Rd Penticton, BC. V2A 6G5 | (250) 490-8800 |
| Granny T's Long Term Care | 131 Cleland Dr Penticton, BC. V2A 7H4 | (250) 770-1328 |
| Haven Hill Retirement Ctr | 415 Haven Hill Rd Penticton, BC. V2A 4E9 | (250) 492-2600 |
| Lifeline | 439 Winnipeg St Penticton, BC. V2A 6P5 | (250) 492-5655 |
| Penticton & Dist Retirement | 439 Winnipeg St Penticton, BC. V2A 6P5 | (250) 770-7400 |
| Redwing Resorts Ltd | 1300 Red Wing Crt Penticton, BC. V2A 8N7 | (250) 492-4900 |
| South Okanagan Similkameen Hsp | 550 Carmi Ave Penticton, BC. V2A 3G5 | (250) 492-9027 |
| Sun Village Lodge | 1147 Main St Penticton, BC. V2A 8G4 | (250) 492-2020 |